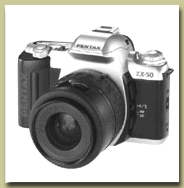 My old camera, Pentax ZX 50
Photos...

Getting all the pictures I like to share was not a easy Job. But good part was one of my friend recommand the Kodak Photo CD.
And Yes !! it was really cool and nice. Becouse Kodak does the job so easy that I did not have to buy a Scanner and scan each photograh. But XNVIEW for windows is another great tool to create thumbnails or resizing images and you can convert images from lot of formats .
Most of the Picture are from 1998 summer. My Trip to Grand Canyonn was remarkable. We took a helicopter ride it worth that $100 bucks. The images from Hoover Dam is a must see becouse I was there on the right time.But when I tried to capture the event of Fireworks on 4th July then I realized how poor I am quiped with for such a magnificient Fire Works. Any way I got couple of good pictures.
I got a Nikon N80 right now. Most of the pictures are in Yahoo!! from that.